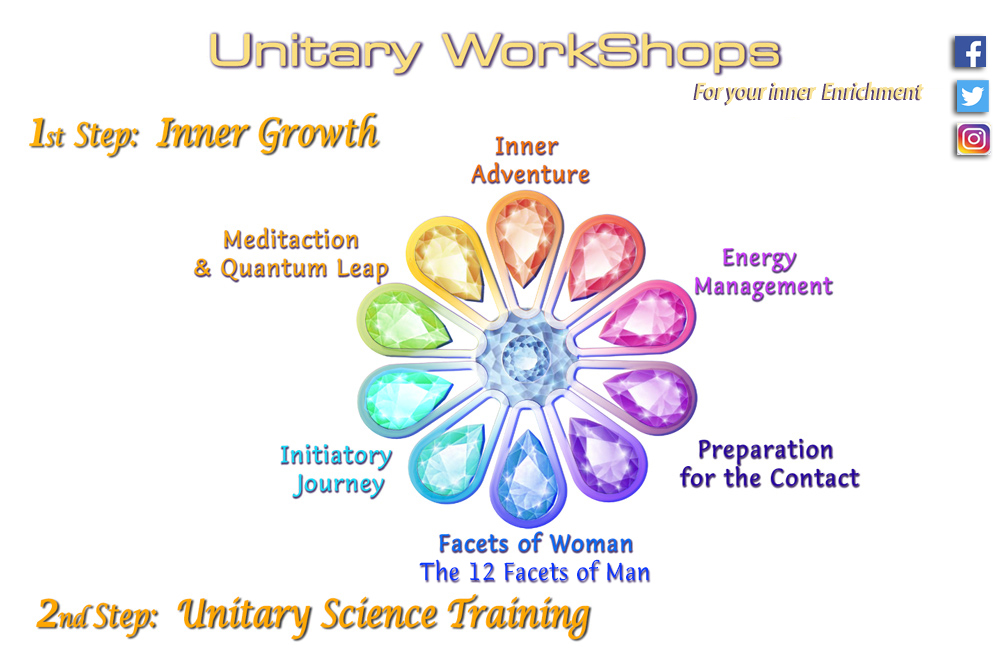 | | |
| --- | --- |
| | |
Unitary workshops leads you towards the discovery of yourself,
b eyond the impossibilities of the mental mind and the limitations of the formal world.
through previously unseen information, fruits of years of research, of intuitions and practices,
these workshops will make you experience intense moments and will set you in original situations.
They will give you precious tools to lead you to decisive insights and to awake your extra sensorial perceptions.
They represent unique moments of mind opening and communion during which everyone is lead to develop
all the levels of his/her being and share his/her experiences in a context of respect and attentiveness.
Workshops of Inner Growth to:
Discover the Meditaction
Explore your inner universe
Learn to master the different levels of energy
Travel in spirit, soul and body worlds
Develop the contact with other dimensions

You can complete your training with a serie of more specific workshops in order to broaden your knowledge
and gain access to your potential of Cosmic Junction. These workshops are done in qualitative and privileged places.
Unitary workshops offers you « on line » workshops too, through vocal chats and on interactive
virtual worlds where each one is present with his /her own avatar.
The Unitary Workshops team is happy to welcome you for stays of awakening of consciousness stays.
Workshops and customized coaching
Objectives
The Unitary Workshops give you the keys for :
-Learning the mastering of your energies
-Setting order in all facets of your identity
- Emerging your potential to serve your success
- Understanding your energetic structure
- Recovering the memory of your essential Being
- Taking your place and your role in the games and frames of the universe
FIRST STEP – INNER GROWTH
INNER ADVENTURE
-To enter in a stream of positive evolution
- This workshop allows you to integrate the bases of the physical and energetic purification
- It gives you codes to recentre and feed the cosmic and spiritual aspect of yourself
MEDITACTION & QUANTUM LEAP
- The goal is to retrieve an inner reference passing from meditation to meditaction
- Progressively we canalize our energy to build our vertical axis and to reach serenity in communicating with our inner self
INITIATIC JOURNEY
- We invite you for a journey for the clarity of the mind, the fulfillment of the soul and the well-being of the body.
- Discovering, sharing, freeing ourselves and creating the alliancy between your earthy identity and your cosmic origin.
MASTERING AND MANAGING THE ENERGIES
- Exploring all our energetic potential in mastering the energies in order to be in harmony
With the The spirit - With oneself - With the others - With the Force
Learning how to manage the energy fields which interfere at each moment in our existence.
FACETS OF WOMAN
What kind of a woman are you?
Do you really know yourself?
An eventful trip through the woman's world,
to discover the woman you really are.
PREPARATION FOR THE CONTACT
You who have kept the memory of your cosmic origin or carry intuitively in yourself the desire to recover it,
this workshop is for you…
You will integrate knowledge and experiences which will guide you toward the contact
with the sideral presences who are watching over humanity and appear sometimes in the sky.

***
To know our following courses:
UNITARY SCIENCE TRAINING